The increase in population (in Portugal, and as a curiosity, with an increase of 0.19% between 2018 and 2019), the emergence of new models of society (constantly changing and as a consequence of the pandemic), the demands of the markets and companies, with increasingly informed and attentive consumers, the changes in food consumption habits, led to an exponential growth in the consumption of large quantities of fresh and frozen food products, with a focus on major urban centers, and giving even more importance to the control and monitoring of temperature throughout the transport chain.
Global warming is the motto, so that together, all entities, organizations and even investors, equate and develop different strategies to improve the complex transport management chain throughout the cold chain, ensuring that the transport of perishable goods, is made in order to preserve, throughout the cold chain, the intrinsic properties of a product, so that it can be in full condition for consumption.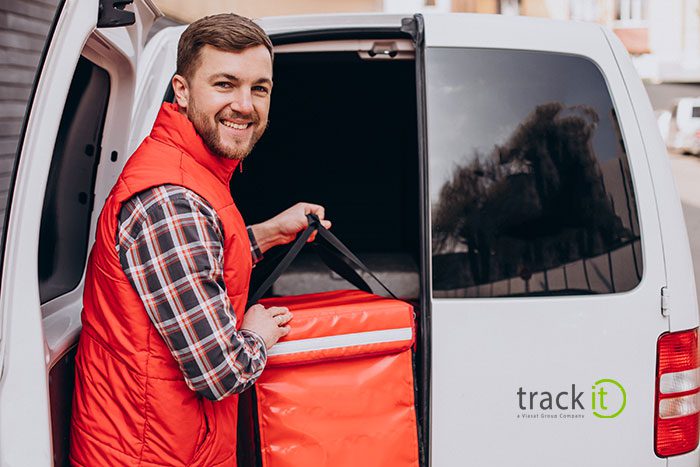 The i.trackit platform, as a decision support tool, allows the transport professional in the area in question to verify whether perishable goods suffer any temperature variations from the moment they leave a warehouse until they are distributed to the respective delivery points (stores, for example) that serve the final consumer, in order to safeguard and mirror the Quality of their transport, with temperature control adapted to the type of cargo in transport (ambient, refrigerated, frozen).
In this way, TRACKiT's telematics, control and temperature monitoring solution, through the simple integration of a GPS Locator with a thermograph or temperature probes, allows the transport operator to be even more professional, transparent and competitive in this segment, which is growing every day with all the current changes in the logistics processes, as a consequence of the pandemic.
Alarming and events of vehicle door opening and closing (inside or outside the client) and the eventual non-compliance of temperature ranges adjacent to a certain load, as well as obtaining an eligible analysis report of an entire route or trip and with temperature graphs, are examples of features that are available online, in an exclusive and dedicated package, to the Traffic Management professional who operates in this competitive market (and so penalizing, for those who do not comply with the rules).
Complaining is the client's and consumer's right: preventive measures and tools that allow the professionalism, ethics, and performance of the Cold Carrier not to be questioned are essential for credibility to be a differentiating factor, as in any business.
Don't miss the opportunity!
Fill out the form below and a specialist will contact you with the best solutions for your company.